1ML hyaluronic acid injection TOP-Q Super Derm Line
stars, based on
( 0 )
reviews
Wholesale Price:

| | |
| --- | --- |
| Quantity | Price |
| 1+ | £15.26 |
| 10+ | £14.50 |
| 50+ | £13.74 |
| 100+ | £12.97 |
Description
New Top-Q Hyaluronic Acid products are now available for the correction of wrinkles. They can easily be injected into the skin, are very stable, and ensure a long-lasting cosmetic result. This new type of hyaluronic acid spreads evenly through the skin, creating a smooth transition between treated and non-treated areas. This anti-wrinkle treatment results in a particularly natural, beautiful appearance.
Top-Q supply four types Hyaluronic acid dermal fillers:
Product Description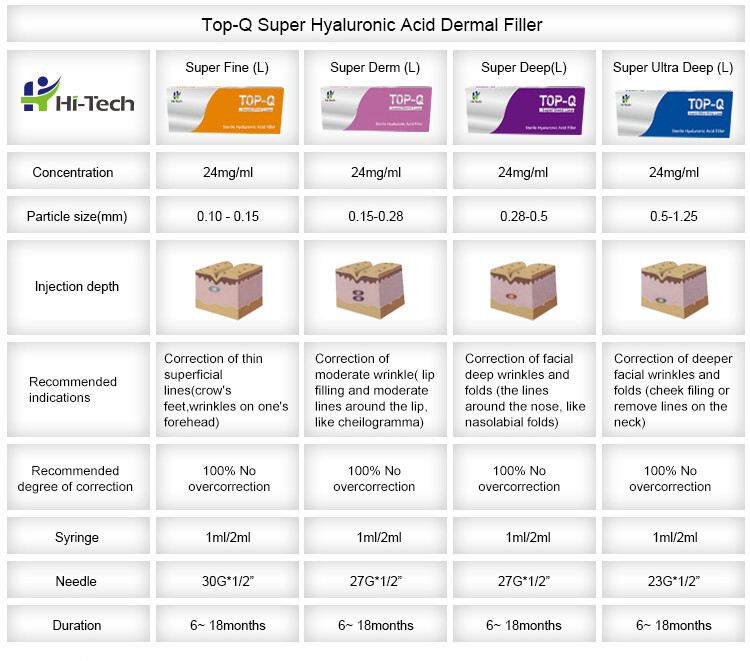 Injection Areas

Top-Q Super Derm (L)

– For correcting of moderate wrinkle( lip filling and moderate lines around the lip, like cheilogramma)

Qufu Hi-Tech Trading Co.,Ltd

is committed to research and development ,manufacturing ,sales and marketing of high quality and affordable hyaluronic acid series products .The company situated at Qufu High-Tech Development Zone-----hometown of Confucius.

As specialist in the R&D of HYALURONIC ACID products in China , we have been the global leader in HA raw material market,and now we are also dedicated to the sales & brand promotion

Our strong products are : Hyaluronic Acid Filler, Mesotherapy Hyaluronic Acid Serum, Medical Sodium Hyaluronate Gel ,Hyaluronic Acid Materials & Hyaluronic Acid Skin Care Cosmetics.

Our trade mark products :Top-Q,Charmost, Bomsur, which have received many positive feedback in Southeast Asia,South America,Southern Europe,Western Europe,etc

Our plants meet the GMP requirement. We have automatic fermentation and purification equipment, perfect quality management system and modern testing methods. Our productive process has already reached CE, ISO9001:2008 Quality Management System. We have expertises and professors specializing in reseaching HA series for pharma, health food, cosmetic and beauty products.

In addition,we offer our customers

OEM

and private labeling services to create your own unique line of hyaluronic acid products.

Different from the common sense of trading company, Hi-Tech is closely linked with some other competent manufacturers. To strengthen the ability of production and processing.